Introduction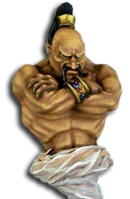 Meet Afaaq! The djinni who will be your faithful companion in the course of your adventures throughout SoA and ToB. Now available for Icewind Dale: Enhanced Edition and the Enhanced Edition Trilogy (EET) as well!
Contents
The djinni Afaaq who acts as your "seventh party member"
Extensive dialog content between Afaaq and the protagonist
Banters with each of the original Bioware/Beamdog NPCs (still in the works)
Interjections and commentaries
An extensive player-initiated dialog with Afaaq
Up to five new interesting quests
Six new areas
A couple of unique artifacts
Several easter eggs 😉
---
Visit the SHS Forums or the Beamdog Forums if you have questions, or download the latest version from Spellhold Studios or GitHub.
BACK TO TOP